Description
Poplar Plywood (1200 x 600mm) is one of the world's most prestigious plywood substrates and is renowned for its quality, light weight, strength, flexibility, low formaldehyde emissions and environmental certification. Poplar is frequently the material of choice for laser cutting, engraving and etching due to its consistency, colour contrast and minimal cleaning required even at high power.
In addition to our popular 1200 x 600mm Poplar Laser Plywood Panel, we offer 300 x 300mm Laserply Craft Packs. Plyco also provides a custom service to tailor the sheet size for the bed size of your laser cutting machinery. For a personalised quote, contact us with the details of your product and requirements .

Face Grade: A/B Front and B Back
Bond: C-Bond (Interior)
Standards: E0 & FSC Certified
Applications: Interior wall and ceiling lining, interior furniture, laser cutting, etching and engraving.
This Quadro product is also stocked in a 2440 x 1220mm European Poplar Plywood option in a range of thicknesses from our architectural plywood collection.
Shipping
To offer you the cheapest available price, we use calculated rates at checkout based on your order's destination, weight and dimensions.
We also offer $50 flat rate shipping to select Victorian regions and a free pickup service from Plyco Fairfield.
If rates for your destination aren't displaying at checkout, contact our sales team at info@plyco.com.au for a manual rate. Read more about our Australian and international shipping options.
Cutting & Edging
Want your order cut to size? Fancy some custom edging? Plyco can do it all!
To speed up the process of delivering a custom quote, either complete our cut to size form or submit both the products and cuts/edging required via our contact page. 
Note: completing an online order before submitting a seperate cutting/edging request will result in delayed order fulfilment.
Payment & Security
Your payment information is processed securely. We do not store credit card details nor have access to your credit card information.
Customer Reviews
Write a Review
Ask a Question
Filter Reviews:
quality
plywood
shipping
consistency
laser hobbyist
grain
things
store
error
trial
16/05/2022
Emma C.

Australia
Soft Grainy Tones
I really like working with this product. It is nice and smooth and has lovely soft grains flowing throughout the sheet. I use it for laser engraving and it normally engraves great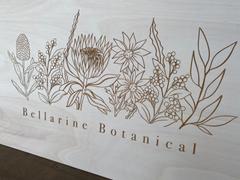 Hey Emma, thanks so much for taking the time to leave the review and for posting some of your lovely intricate work! We're glad the Poplar Laserply is allowing you to work so smoothly.
28/04/2022
Steve K.

Australia
European Poplar laserply
Beautiful wood that laser cuts very nicely and very consistent!
Love the review! Thanks for the kind words on our European Poplar Laserply Steve ☺️
25/04/2022
Heiko W.

Australia
European Poplar
I was quite reluctant at first due to the light weight. Fine structures need much more care than with standard plywood. But the reward is very fast cutting times - about twice as fast as hardware store plywood. The cleanup is a beeze, no black soot after a quick wet wipe of the edges. Surface grain structure is very pleasing and allows for nice engravings. The only thing I did not like 100% was the surface finish, it is a bit rough and could be smoother.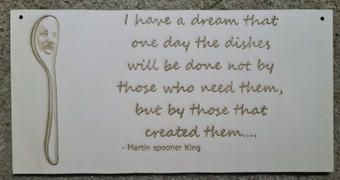 Thank you for taking the time to leave a wonderfully detailed review of your experience using our European Poplar Laserply Heiko! Your words of wisdom will certainly help our new additions to our community navigate the intricacies of laser cutting and engraving using 3mm poplar. We're also huge fans of the quote in your attached image
19/04/2022
Daniel B.

Australia
09/04/2022
Megan V.

Australia
Beautiful products Defiantly buying more
Amazing stuff Beautiful products Defiantly buying more
Brilliant, thanks for the wonderful review Megan. We're stoked our Poplar Laserply was a hit!